Our Programs
Academic Pathways
Academic Pathways
Learn and excel with Dynamics
Catering to pre-school and Primary school-going children, from as young as 18 months to 12 years old, our progression pathways are designed to empower our students to achieve developmental milestones, hone essential learning skills, and thrive in both academics and daily living.
We provide an inclusive and nurturing learning environment, supported by our experienced and committed teachers, who are also trained in special education.
For students who require specific therapy services, we have on hand an in-house team of highly qualified Occupational Therapists, Speech and Language Therapists, Educational Therapists, Physiotherapist and Psychologists to work alongside our teachers.
With the availability of our various therapy services under one roof, our students and parents are assured of a risk-free and seamless transition throughout the students' developmental and learning journey at Dynamics.
Development Pathways (Early Years)
We partner and nurture pre-schooling children, aged between 18 months and 7 years, in their early developmental progression as they prepare for their Primary education. A student's Individualised Education Plan (IEP) comprises preparatory developmental therapy sessions, be it in a group or private setting. The low teacher-student ratio throughout the pathways ensures individualised attention to better bridge the gaps in our student's developmental milestones.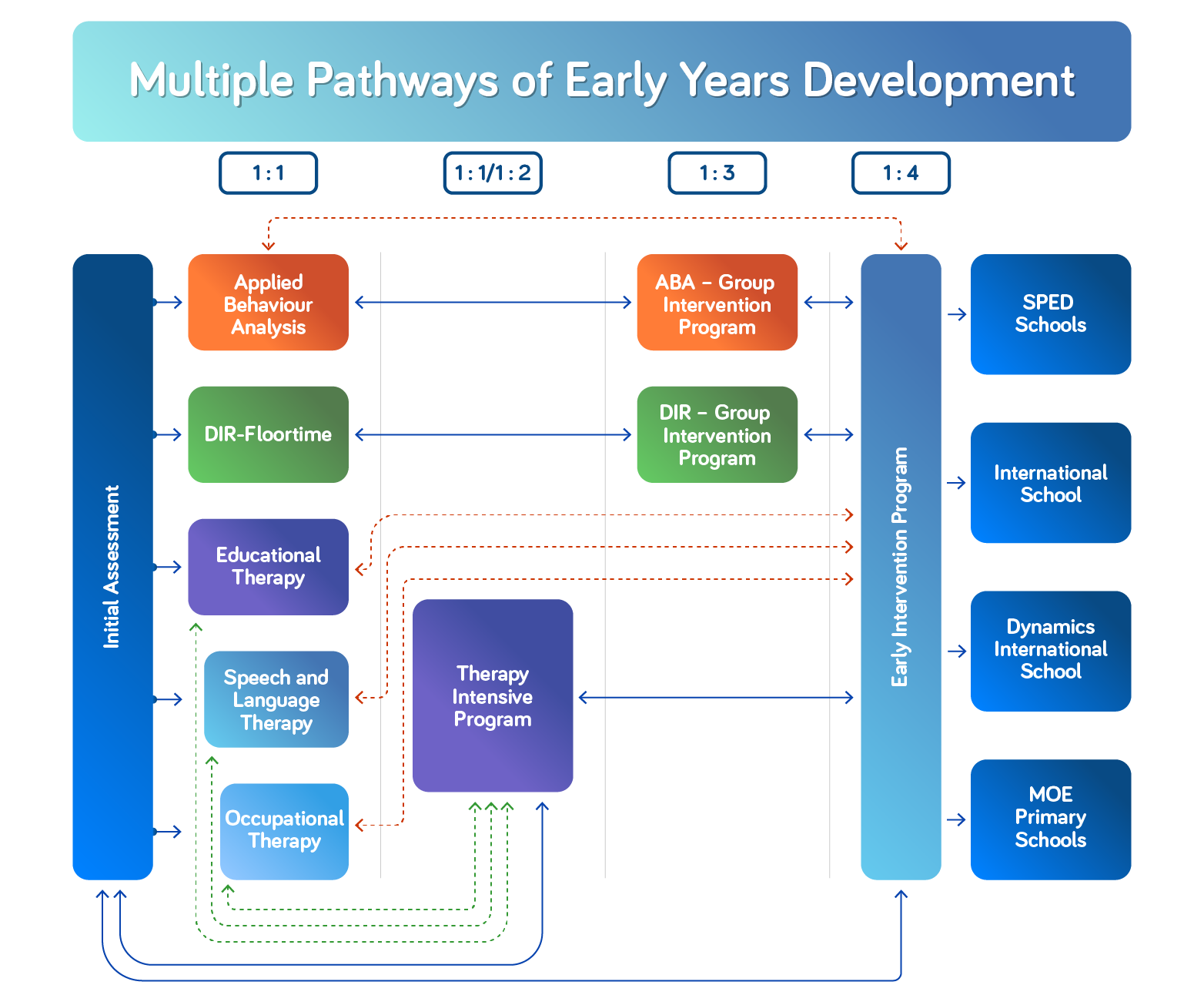 Academic Pathways (Reception to Grade 12)
To better prepare our students (aged 5 to 12 years old) for primary school and beyond—whether at Dynamics International School (DIS) or other mainstream schools—our early intervention programmes and therapy support are integrated with our students' academic curriculum. Read more about our School Readiness Programme (SRP) and Special Support Programme (SSP).