Getting Started
Our Admission Process
We understand that choosing the right place for your child is not easy!
We have adapted our admission process to be positive and stress-free for you and your child. We hope that the website with its additional information will bring our centre life, but we would always encourage you to visit the centre in person.
Visiting the centre will enable you and your child to get a better feel for Dynamics EIP, to talk to pupils and staff, and experience for yourself our special ethos and environment.
You may choose to arrange an individual visit and meet our senior staff as we recognize that selection is a two-way process that involves much investigation and discussion by families, many of whom are choosing an educational provision for the first time.
Registration Procedure
Once you have chosen to join the Dynamics EIP community, a Registration Form will need to be completed. This will be provided by our friendly administration staff. We also ask for a one-time Registration Fee to be paid upon registration.
Placement Assessment
Following registration, your child will be assessed by one of our highly trained Speech Therapists or Occupational Therapists prior to their placement within the program. The assessment is one hour long and a written report will be provided to the parents. The purpose of the assessment is to place your child in a suitable class based on their core abilities across communication skills, cognitive development, social skills, pre-academic/academic skills and attention, as well as age. Should your child not be ready for the group environment offered through the EIP, one-to-one sessions can be arranged in order to prepare your child for our program.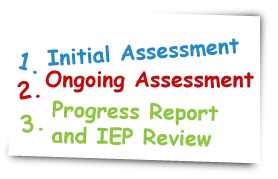 There are 3 types of structured assessment frameworks that operate in the school:
Initial Assessment

The Initial Assessment is carried out by an expert therapist to determine the child's abilities in the core areas of communication, cognitive development, and social development. The assessment is conducted at the time of school registration.

Ongoing Assessment

Ongoing Assessment is viewed as a crucial element in program planning and delivery. Specially trained Early Intervention Teachers regularly review pupil's progress in relation to their Individualised Educational Plan (IEP). Teachers continuously make observations and track the child's individual progress. Information gained from such assessment procedures provides valuable insight to inform future program planning and goal setting.

Progress Report and IEP Review

Each child has their own Individualised Educational Plan (IEP) and the first set of IEP goals are confirmed and documented within 4-weeks of enrolment. For each IEP the goals are set in collaboration with early intervention teachers, speech and occupational therapists and caregivers' input. Reviews of the IEPs are conducted every 6-months together with all the adults working with the children and the caregivers.
Formal Offers
Once your child has been assessed by our Therapists, a formal offer of place will be made. We ask for a security deposit to be made within seven days upon acceptance of the offer in order to secure your child's place within our program.